Sewage Cleanup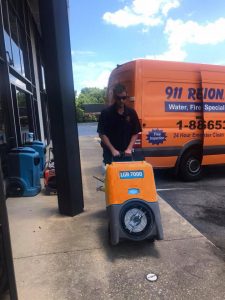 Sewage is the last thing any home or business owner wants floating around their property. In addition to causing an awful smell, sewage water can be filled with germs and bacteria that can cause serious illnesses to those exposed to it. While the smell may be tolerable, germs and bacteria are not worth the risk and should be handled with care. Exposing yourself to the germs present in sewage water can be extremely dangerous, especially if you are pregnant, elderly or have a compromised immune system.  If you need sewage backup in Emerald Coast or the surrounding area, call 911 for restoration.
There's no such thing as a convenient time to experience water damage. However, it seems that most issues arise right before a big holiday or before you have guests coming over. At 911 Restoration, we know that disasters have the worst timing possible. In order to offer the best services available for sewer and sewage backup in the Emerald Coast area, our sewage cleanup experts are available 24/7, 365 at 850-397-1513 days per year. You can call our office in the early morning hours, late in the evening and even on that busy holiday weekend for total property restoration.
When dealing with water damage situations like sewage backup, time is of the essence. For this reason, property owners can expect the IICRC highly trained technicians to arrive onsite within 45 minutes of their phone call. They will begin by inspecting the sewage backup and any additional damage to the surrounding areas. From there, water extraction and mold removal techniques will be applied.
Contact us at 850-397-1513 911 Restoration of Emerald Coast if you are searching company for sewage cleanup in Emerald Coast water that truly cares!
Raw Sewage Spill Cleanup In Emerald Coast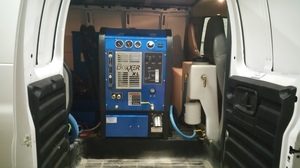 Unfortunately, when it comes to sewage backup there is no one size fits all cleanup method. Sewage water can appear in three different contaminated forms: clean water, gray water and black water. Each type requires its own water damage restoration services and should be handled by highly trained professionals. 911 Restoration of Emerald Coast's technicians have protective gear and state of the art equipment that allow them to safely remediate the area in an efficient manner. We also provide sewer backup in a basement in Emerald Coast.
The difference in clean water, gray water and black water is the amount of contamination and harmful bacteria that may be present. It can often be difficult to differentiate the type of sewage water you are dealing with, but here are a few tips that may help you out.
Clean water is the lesser of the three evils, but still should be handled by experts. This type of water can come from a faucet leak. Clean water can quickly become gray water when proper water cleanup services aren't received.

Gray water is contaminated and has the potential to cause illnesses. One prime example of gray water is toilet overflow that has urine present. This type of water can have bacteria present, which are the cause behind becoming ill from exposure. In addition, gray water can turn into black water without sewage spill cleanup.

Black water is the worst of the water types and should only be handled by the water damage cleanup experts at 911 Restoration of Emerald Coast. It's important to stay away from any black water and to call for help immediately because it can be very dangerous. so contact us today at 850-397-1513
A Water Restoration Company Ready To Give You A Fresh Start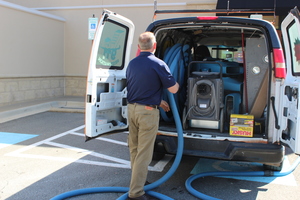 911 Restoration's goal is to provide the highest level of 911 water restoration and sewer backup in a basement in Emerald Coast. But, more than that, our goal is to give home and business owners the restoration services they deserve, which extends beyond our cleanup efforts. While property owners initially hire our technicians for restoration, we go the extra mile by developing relationships with customers that last a lifetime. 
To uphold our goal of offering the best restoration services in Emerald Coast, customers receive exclusive benefits such as:
Free visual inspection for property owners only

Sewage cleanup

Water damage restoration

Emergency water extraction services

Leak detection and repair

Drying and dehumidifying of damaged areas

Repairs to structural damage

Complete property restoration

Flood repair

Free insurance consultations

Highly trained technicians who truly care and understand your needs
Choosing 911 Restoration as your water damage company is not a decision we take lightly. We understand you are entrusting us with what is probably your largest investment and will do whatever necessary to get you back to pre-damage condition. We provide full-scale service for sewer backup in a basement and biohazard cleaning services in Emerald Coast.
Call the office in Emerald Coast today for your Fresh Start! call 911 Restoration of Emerald Coast at our number 850-397-1513
Serving the communities of Bay County,Defuniak Springs, Destin, Miramar Beach, Niceville, Panama City, Panama City Beach, Santa Rosa Beach, Walton County, Youngstown and surrounding areas.