Water Damage in Santa Rosa Beach
Imagine this: a pipe bursts on your property in Santa Rosa Beach, leaving excess water everywhere. You're not sure what to do next, and are concerned about the possible occurrence of mold after. The specialists at 911 Restoration of Panama City are here to help with any inspection.

The technicians are IICRC certified, so you can trust them with all of your water extraction needs. They have years of experience in water damage restoration, so there is no need to be concerned about the future of your property. Whether your water damage emergency was caused by burst pipes or natural causes such as heavy winds and rains, the technicians are trained to handle it all. For timely water removal services you can count on, call 911 Restoration of Panama City today.

Flood Cleanup After Burst Pipes
There are many reasons why a pipe would burst on the property in Santa Rosa Beach. It's important to have a plumber regularly inspect your property to ensure that everything is in working order. In addition, make certain not to flush any cosmetic items such as cotton swabs. This will help prevent any future flood cleanups on the property.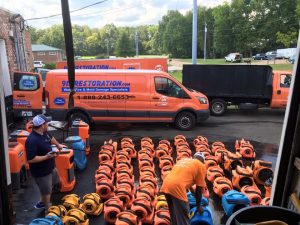 If there is a water damage emergency on the property in Destin, you can trust the technicians to be readily available for the restoration. All calls are responded to within 45 minutes, and the technicians are available 24/7/365. When you need flood cleanup services, they are there around the clock.

A common question after any water damage emergency is whether or not the flood cleanup is covered under insurance. The truth is that the water damage specialists accept all types of insurance, and even work with you to come up with the best plan for your water damage restoration. A free visual inspection for property owners only is even offered.

When dealing with a flood cleanup on your property, you may think that it is the end of the property in Chipley. Actually, the technicians work hard to provide water damage restoration services with a positive attitude. They believe in both a Fresh Start for both you and the property.

The water damage restoration technicians go above and beyond to ensure the flood cleanup is carried out on every inch of the property. A complete water extraction is provided, with drying and dehumidifying services for the property. No inch will be left unattended to during the flood cleanup. The burst pipe on the property will be considered a thing of the past.

When you need same day water extraction services in Freeport, you need to call the best in the business. 911 Restoration of Panama City is available around the clock, and provides comprehensive water damage restoration services. Call today for prompt water remediation services in Santa Rosa Beach.

Quality Mold Decontamination Services You Can Trust
Unfortunately, after a flood on the property caused by a burst pipe, mold can occur. The spores can arise as quickly as 24 hours after the water damage emergency, so there is no time to delay. If you spot fungus in the bathroom or anywhere else on your property, call the remediation technicians as soon as possible.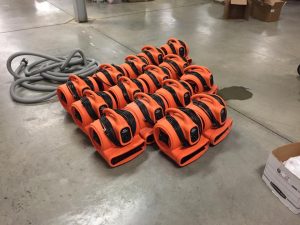 You may think that it's easy enough to remove the spores on your own, but the fact is that it's something that should be truly left to the professionals. The mold removal technicians have years of experience and are trained to find mold in all the hidden spaces that may not be visible to the naked eye. From top to bottom, the mold decontamination on the property will be comprehensive.

The mold removal techs work diligently to ensure that the property is clean and dry because they also care about your health. Continued exposure to mold can cause difficult health issues such as headaches, coughing, or sneezing. If you have experienced any of these after spotting mold on the property, call the decontamination techs immediately.

The remediation techs perform mold denominations on all types of properties, from commercial to residential. No area will be left uninspected, and in certain inspections third-party laboratory testing will be used for a more accurate read. The techs use infrared technology to find all the hidden mold and to remove it immediately.

For the best mold decontamination services in Santa Rosa Beach, you need trained remediation techs with years of experience. The decontamination technicians put your safety first, and understand what a difficult time mold removal is for property owners. They will be in and out for the inspection before you know it. This mold removal will be a Fresh Start for you and your property. For mold remediation services you can trust, call 911 Restoration of Panama City today.

Servicing the cities of Caryville, Chipley, Defuniak Springs, Destin, Ebro, Freeport, Miramar Beach, Niceville, Panama City, Panama City Beach, Ponce de Leon, Santa Rosa Beach, Vernon and Youngstown.