Air Duct Cleaning Services in the Emerald Coast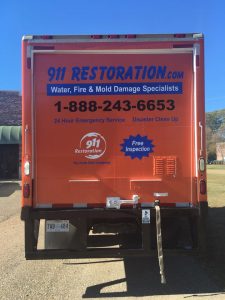 The Emerald coast water is generally hot throughout the year, with an onset of increasingly high temperatures in the summer. Since the only way to withstand the heat is by running your air conditioner, it is crucial that your air ducts are clean. The heating, ventilating, and air conditioning system blows air through these ducts daily. When the ductwork becomes clogged with dust and dirt, all of that debris gets blown through the home, contaminating the indoor air quality. 
911 Restoration wants to help keep your property a safe, clean space for you and your family by providing professional air duct cleaning. Our technicians will give the property owner a free inspection and create an estimate of the services needed to provide you with an immaculate result.
Once we determine the extent of the necessary air duct cleaning, our technicians will begin same-day services. We want to ensure you are living in an environment that only circulates clean air.
Not only will we remove any dirt and dust buildup in the ducts, but our professionals will address any mold issues. 911 Restoration of Emerald Coast works with IICRC certified technicians that are experts at 911 mold restoration. 
We commonly find mold in ducts due to the condensation that typically forms in the airways. When the HVAC is in use, mold spores become airborne and easily inhaled by everyone inside the property.
911 Restoration of Emerald Coast wants to help you with all of these issues. Through professional air duct cleaning, we will remove mold and pollutants from the system to create a healthy home for you and your loved ones. Give our office a call for your free inspection today! call us 850-397-1513
Understanding the Signs that Your Air Duct System Needs Cleaning
Sometimes it is easy for homeowners to forget to maintain the parts of the property that are out of sight, such as the air ducts. You can become nose-blind to certain smells that might indicate that it is time for a professional clean, which may cause you to overlook your air ducts.
The United States Environmental Protection Agency states that homeowners should receive professional air duct cleaning once every 2-3 years. In order to stay on top of your HVAC maintenance, you should make it rule of thumb to receive cleaning services during this set timeframe.
However, there may be signs that you need air duct cleaning sooner rather than later. Frequent accumulation of dust on your floors, surfaces, and furniture may indicate that your air conditioner is blowing debris lodged in the ductwork throughout the house. You may also notice continuously dusty air vents, even after you wipe them down.
Experiencing allergies while you are inside your property is another tell-tell sign of dirty air ducts. By breathing in airborne allergens, such as dust, pollen, and mold spores, you may find yourself sneezing, coughing, wheezing, and itching only while you are at home.
If you notice any of these signs, or you can't remember the last time you had your air ducts inspected, call 911 Restoration of Emerald Coast. Our technicians will provide the professional air duct cleaning you need to live in the comfort of your home today confidently. Call us at 850-397-1513 and see how we can help you.
Keeping Your Air Ducts Clean Will Save You Time and Money
Have you noticed that your energy bills are noticeably higher than usual, even though you are using the same electricity? The reason for those expensive invoices could be clogged air ducts.
When buildup crowds the ductwork, it takes more power to regulate the desired indoor temperature, reflecting on your energy bills. 911 Restoration of Emerald Coast will help you get those bills down by providing high-quality, thorough air duct cleaning.
The difference a clean airway can make is impressive. Our technicians are committed to helping you achieve a sustainable home by using as little energy as possible to power your HVAC.
By decontaminating the air ducts in your home, you are sure to see a difference in your air conditioner and heating system's performance. You will save money, as well as feel your home reach the ideal temperature at a faster rate.
911 Restoration of Emerald Coast is here to make your life easier, and sometimes merely getting the air ducts in your home cleaned is the way to achieve that goal. Call us at 850-397-1513 our professionals to receive an estimate for air duct cleaning services today!