Carpet Cleaning Services in the Emerald Coast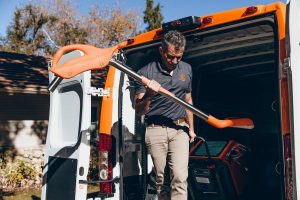 If you think it might be time to deep clean your carpets, you're probably past due. By the time most property owners notice grime and odor, they already have a build-up of dirt, dust, and allergens. Not to worry. Whether you're trying to get rid of set-in stains or proactively getting out in front of potential build-up, we can help.
911 Restoration provides residential and commercial Carpet Cleaning Services in the Emerald Coast and the surrounding area. We are equipped to serve all types of properties, from shops in Niceville to high-rise condominiums in Panama City Beach. Our highly trained team uses cutting edge technology and eco-friendly methods to eliminate stains. They remove dirt, allergens, and bacteria. And they permanently remove those odors that make your home or business smell musty and unpleasant. Call us at 850-397-1513 and please allow us to offer you a free visual inspection.
Our non-toxic Carpet Cleaning Services in the Emerald Coast are safe for children and pets. We use the latest, quick-drying formulas so you can get back to using your space and living your life. 
911 Restoration of Emerald coast water is licensed, ensured, bonded, and IICRC certified. We are locally owned and operated, so you can be sure the team that serves you is run by your neighbors. We care about your wellbeing and the long-term health of your property.
Don't wait another day for professional deep carpet cleaning and stain removal. Call us at 850-397-1513 911 Restoration of Emerald Coast.
Eco-Friendly Commercial Carpet Cleaning in Panama City and Beyond
If you own a business property, you know how essential deep carpet cleaning is for maintaining your reputation within the community.
For one thing, a stained or dirty carpet immediately gives the impression that your establishment is unclean or neglected. And because a dirty carpet often houses bacteria, allergens, and 911 mold restoration spores, you could put your staff and customers at risk by delaying carpet cleaning services.
These issues become even more complicated for professionals who own hospitality businesses or rental properties. You know it's important to maintain clean, fresh-smelling carpets. But you can't always control the way your renters or guests treat that carpet.
The clear solution is regular carpet cleaning service from a certified contractor. 
The carpet cleaning technicians at 911 Restoration are equipped to serve all commercial property restoration, including high-rise buildings. They understand the unique stakes involved with a business property. They know you require a high standard of service, because the cleanliness of your property reflects on you. Count on our staff for comprehensive carpet stain removal, bacteria and allergen removal, and odor elimination. Our methods are non-toxic and eco-friendly.
If you need carpet cleaning in Panama City, Destin, or any of the nearby cities, call 911 Restoration of Emerald Coast. We give you a Fresh Start. Call us at 850-397-1513 and allow us to provide you a free visual inspection.
Enjoy Like-New Carpets Safely, Quickly, and Affordably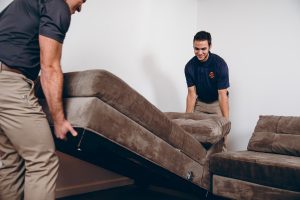 Everything we do at 911 Restoration is done with one goal in mind:
To give you and your property a Fresh Start.
When you call our carpet cleaning team, they arrive at your home or business with a plan to make your rug feel brand new. And they do it safely, quickly, and affordably.
Our methods are safe for your carpet, no matter what type of rug you have. All our technicians have experience with a wide range of fibers and rug types, so you can feel secure that they'll deep clean without causing harm. We train every member of our staff thoroughly to ensure they can maintain the pristine condition of your rugs and upholstery.
We also employ techniques that ensure a safe environment for you, your staff, your customers, your family, and your pets. All our stain removal and carpet cleaning solutions are non-toxic and eco-friendly. They are also far more reliable and complete than anything you can accomplish with a store-bought carpet cleaning device.
Our team understands that you need an affordable option for maintaining your carpet or rug. We keep costs low and use quick-drying cleaning methods. This is absolutely essential for eliminating the risk of carpet mold, a costly side-effect of poor cleaning techniques. call 911 Restoration of Emerald Coast at our number 850-397-1513
A clean carpet provides peace of mind and makes any space feel like a beautiful refuge. 
Call 911 Restoration of Emerald Coast and look forward to a fresh new space.