About Us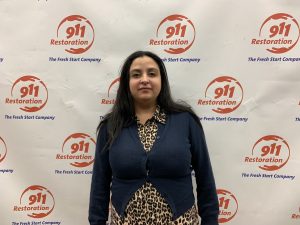 911 Restoration of Emerald Coast owners, Mona and Aladdin Morsi, are dedicated to providing customer-oriented commercial restoration services to the property owners of the Emerald Coast. Mona utilizes her Civil Engineering degree to maximize the amazing results their clients receive, while Aladdin is committed to providing the best customer service for whatever project he takes on, no matter how big or small the scope of the restoration job is.
Originally from Egypt, Aladdin is a driven and motivated worker. He came to the United States on a green card with no money to his name and had to teach himself how to speak English. After working three full time jobs, he started his own cleaning business in 2000 that catered to local businesses and schools.
A Focus on the Customers
Mona and Aladdin Morsi are committed to offering all of their clients amazing commercial restoration services with a smile. They both understand that a disaster such as water damage afflicting your home or business can be a harrowing time, and this is why 911 Restoration of Emerald Coast and their team always puts the client front and center.
"Customers are number one all the time, even if the work is done correctly, but the customer complains about the quality, we will still go back and do the work until the customer is satisfied," Aladdin said.
How to Prevent Water Damage in Your Building
Mona and Aladdin, along with their team of experienced and empathetic technicians, strive to keep their neighborhood safe from the dangers of water damage. This is why they are offering these proactive tips on how to prevent flooding and water damage from happening inside of your home or retail store. Some methods of preventing water damage from occurring include:
Being aware of where and what you plant – Some types of trees, including weeping willows, have invasive roots that can grow into your septic system and pipes and cause it to burst.

Clean your gutters – Be sure to check your gutters regularly. If you see leaves, sticks, and other debris in them, clean them out or hire a professional team to perform the task. During a severe storm, clogged gutters can send water spilling into your house's roof and foundation, causing roof and ceiling leaks.

Don't pour grease down the drain – It doesn't matter if you flush it with hot water after, grease will always congeal and clog your pipes.
Professional Services with a Caring Touch
While it's critical to take preventative actions to protect your property, water damage can still happen. This is when it's time to call in the professionals. 911 Restoration of Emerald Coast will be at your doorstep within just 45 minutes of your initial phone call. Their services are available 24/7/365 and include:
Same day service

A free visual inspection for property owners only

Licensed, bonded, and insured staff members

And much more!
For all of your water damage restoration needs, contact Mona and Aladdin Morsi today!