Panama City Sanitization Services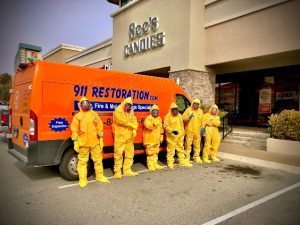 The coronavirus crisis has gone global. Residents not only in Panama City, but all over the U.S., have felt the impacts. Moreover, to prevent the spread of the virus, people are taking shelter inside of their homes. If you need covid 19 cleaning services in Panama City, call 911 Restoration of Emerald coast water at our number 850-397-1513

 The CDC recommends that people wash their hands, cover their noses and mouths with face masks when venturing out, maintaining a distance of six feet or more between themselves and others, and washing their hands for 20 seconds or more throughout the day. 
 It is estimated by NPR that ¼ to ½ of the world's population will become infected with coronavirus, and more than 80 percent of America will be infected with this deadly disease. This is because symptoms may not show up until 14 days after the initial infection. Coronavirus symptoms are like that of the common flu and can include: 
A dry cough

Wheezing

Severe trouble breathing

A high fever of 100 degrees or more

Aches and pains

Fatigue or tiredness
 If you are experiencing any of these symptoms, seek medical treatment immediately. Afterward, practice self-isolation inside of your home and get all of your property deep cleaned on a microscopic level to prevent the spread of the disease. so contact us today at 850-397-1513
 911 Restoration of Panama City understands your concerns. This is why we are providing high-quality sanitization services to the residents of our community. Our highly-trained technicians abide by CDC and EPA guidelines, ensuring that your home or business is clean, sanitized, and secure. We have full-scale service in the sanitation business in Panama City.
 Our team is available 24/7/365 at 850-397-1513 and will arrive within just 45 minutes of your first phone call to us. 
 Allow us to help you during this difficult time. Give us a call today. Remember, the community of Panama City, and the world, are all in this together. 911 Restoration is the best service provider company in overall covid 19 cleaning companies in Panama City. Allow 911 Restoration to lend a helping hand in order to help you have a safe and sanitized place to call home until this troubling time comes to an end.
Our specialists are IICRC certified, bonded and insured to provide the best restoration service problem in Florida. We will make sure you understand what we're going to do, what needs to be done and how we can get you back on your feet. so contact us today at 850-397-1513