Recovering Documents After Water or Fire Damage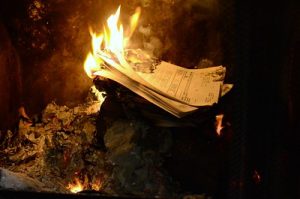 When disaster strikes in the form of a residential fire or flood in the Emerald Coast, a typical homeowner's instinct is to take care of structural repairs and save their appliances and furniture. While there's nothing in prioritizing your property's structural integrity over anything else, most people overlook their documents, files, papers, books, and photographs, thinking they're a lost cause.
Keeping vital documents and files, such as educational certificates, passports, and legal/medical/property documents, is imperative for homeowners as they're important for identification, reference, and administrative purposes. Fortunately, many paper documents can be salvaged after a fire or flood if you act quickly. However, damaged documents are quite fragile and could contain several health hazards, so you should hire a home restoration service in Emerald Coast that specializes in document recovery as they possess the proper tools and expertise for the job.
In this post, we'll share how to recover documents after water or fire damage. However, we recommend property owners take advantage of digital solutions and save soft copies of all important documents because there's no guarantee of 100% recovery in either case.
Document Recovery After Water Damage
Whether it's a flash following a storm in the Emerald Coast, burst pipe, roof leak, or sump pump failure, the water can leave your documents in a bad state. Restoration professionals can help restore most of the documents, which can make a huge difference. However, to salvage important documents, you need to act within 8 hours and assess the damage as quickly as possible. Here's how to recover documents after water damage:
1.    Air Drying
Air drying is one of the quickest ways to save paper documents and files. The process involves using desiccant air-drying systems and dehumidifiers that remove moisture from the air and documents and transfer it outside the space or to a desiccant solid designed to absorb the water. Once the documents are dry, they can be scanned and photocopied to maintain both physical and digital records. The recovery process begins with setting up a clean cover on a table to place and evenly spread all wet records for 24-48 hours before they're fully dry. If the damage was caused by black water, you could gently rinse the papers with clean, cold water sprinkle some corn starch or talcum powder between the pages to absorb the moisture.
2.    Freezing
Freezing damp documents and files might seem unorthodox, but it's one of the go-to recovery methods for extremely fragile or valuable waterlogged documents like artwork. The process involves transporting the documents to a freezer storage facility with highly-efficient dry chambers and vacuums. This process quickly extracts vapor from the paper at -0.4°F. It kills all bacteria, viruses, and fungi in the process that cannot survive in extremely cold temperatures, thus, making it a viable recovery solution for damage caused by sewage.
Document Recovery After Fire Damage
Fire damage is more complicated than water damage and involves dealing with several problems at once. You'll most likely have charred, sooty material which is beyond salvation, as well as wet material that was saved by water through overhead sprinklers or hose reels. The presence of water complicates things further as it combines with ash, soot, chemicals, and other charred materials, making it a far more challenging recovery. Here's what you could be dealing with after a fire:
Fully burned and unsalvageable documents
Partially burned but dry documents
Partially burned but wet documents
Smoke or soot damaged documents
Torn documents from the fire fighting effort
Heat damaged documents
Here's how to recover documents after fire damage:
1.    Chemical Sponge Treatment
Documents partially damaged by fire, smoke, and soot can be cleaned using chemical sponges made of pure latex rubber. First, the ash and debris are HEPA vacuumed from the documents and the surfaces in the vicinity. Once the debris is removed, the technician will use gentle sweeping motions with the sponges, clean the documents, and remove soot particles. The documents are then gently sprayed with ozone to neutralize the odor and remove stains from the surface. If the documents are wet, the restoration experts will apply biocide depending on the category of unsanitary water (clear, gray, or black, etc.) to prevent mold growth and disinfect the surfaces.
Renowned Fire & Water Damage Repair Services – 911 Restoration of Emerald Coast
At 911 Restoration of Emerald Coast, we understand the value of important documents, files, and books. Your paper items might have sustained damage in a fire or flood. In such cases, our team of restoration experts professionally packs and removes paper items from your property to clean all mold, dirt, soot, and debris before applying disinfection and remediation solutions. We have the equipment to restore sensible items on-site if extraction isn't possible due to damage severity or security/privacy reasons. So, whether you're looking to save your favorite book, childhood photographs, or tax documents, we've got you covered.
Feel free to call us for more information regarding our water and fire damage restoration services.