Our View on Global Warming – How it's Impacting Property Owners – 911 Restoration of Emerald Coast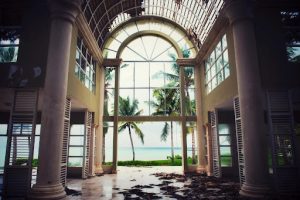 If you live on the Emerald Coast, you're probably no stranger to long, warm, and oppressive summers and seasonal hurricanes and storms that wreak havoc across Florida and other coastal states in the country. However, the recent years have been the warmest and wettest on record due to climate change. As a result, most property owners in the region are growing more concerned as global warming and the consequential inclement weather is not only threatening their properties' structural integrity but also their values. 
In this post, we'll share how global warming affects property owners in terms of structural damage and changes in the real estate market. 
How Climate Change is Affecting Property Owners –  Structural Damage and Restoration Costs
It's no secret that the past decade has been the hottest on record not only for Florida or the US but the entire planet. As a result, long hot summers and mild winters are becoming common on the East Coast. More importantly, climate change is driving more extreme weather conditions from high-speed winds to storms, hurricanes, and heatwaves – all that can impact their property and cause different types of water damage, including:
Flooding
Flooding is one of Florida's most frequent hazards and according to BBC, by 2030, millions of residents will experience flooding which will increase demand in the restoration industry, resulting in increased costs and wait times. Flooding, whether it's caused by a burst pipe or severe downpours causing the sewage lines to overflow, can cause different types of water damage from electrical malfunctions to damaged furniture, carpet, and appliances, and structural issues, such as damaged walls, ceilings, and floors. 
Burst Pipes
Even with prolonged summers, climate change is causing small periods of severe cold conditions in Florida, resulting in burst pipes in commercial and residential properties in the winter months. Burst pipes can incur severe financial damages especially if property owners don't take precautions by hiring a restoration service in Emerald Coast to regularly assess and maintain their properties. 
Subsidence
One of the biggest impacts of global warming is an increase in evaporation from the soil which holds properties in place. Prolonged drying can lead to a loss in the structural integrity of the foundation, thereby, increasing the risk of subsidence. Subsidence often results in irreparable damage as many property owners neglect the cracks in the foundation and fail to take timely action. 
How Global Warming is Affecting Property Owners – Changing Real Estate Market
Coming off a decade of storms and record-breaking extreme weather events, many property owners in the Emerald Coast and different parts of Florida are becoming increasingly aware of and vulnerable to the threats posed by global warming. Floods, hurricanes, hail, and even small-scale but frequent events are impacting demand and supply, changing the overall real estate market in the process. Here's How:
Diminishing Property Values
Increasing climate impacts are threatening commercial and residential property values across the East Coast due to increased tidal flooding caused by sea-level rise. As a consequence, there's a downward shift in property values due to growing property damage insurance claims and the corresponding decline in tax revenue.  Therefore, property owners are not only prone to fire, structural, or water damage in the area but they have to pay higher taxes. Moreover, waterfront homes have gone down in terms of demand, leading to an increase in inland property values. 
Housing Affordability 
In many areas around Florida, especially Emeral Coast, owners are facing repeated annual or season damages to their properties that often require costly restoration or repairs. Therefore, owners in vulnerable homes will have to make structural changes to enhance their property's resilience or deal with deteriorating conditions if they can't afford the elevated restoration costs due to an increase in demand or severity of damages. 
Moreover, property owners in vulnerable areas are also dealing with higher insurance premiums as insurance companies operating in the region are taking drastic measures to protect themselves against climate change. Some are limiting coverage for recurring claim filers while others are declining to renew coverage for owners in high-risk areas. Furthermore, increasingly high insurance rates are making ownership too expensive for some and forcing them to sell their homes or increase the rent of their buildings for businesses or tenants.
Renowned Restoration Services – 911 Restoration of Emerald Coast
At 911 Restoration of Emerald Coast, we believe that it's our responsibility to educate customers and readers about the impact of global warming on their properties so they can make better investment and maintenance decisions. More importantly, if you need professionals to restore your property after a flood, burst pipe, roof leak, fire, or sewage backup, etc, look no further as our team is equipped with the expertise and equipment to handle any type of fire, water, or structural damage on commercial and residential properties. 
Feel free to call us for more information regarding our restoration services in Florida.