Mold Removal in Panama City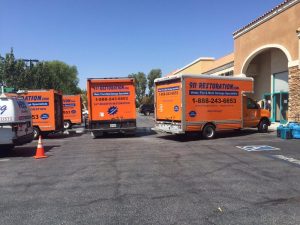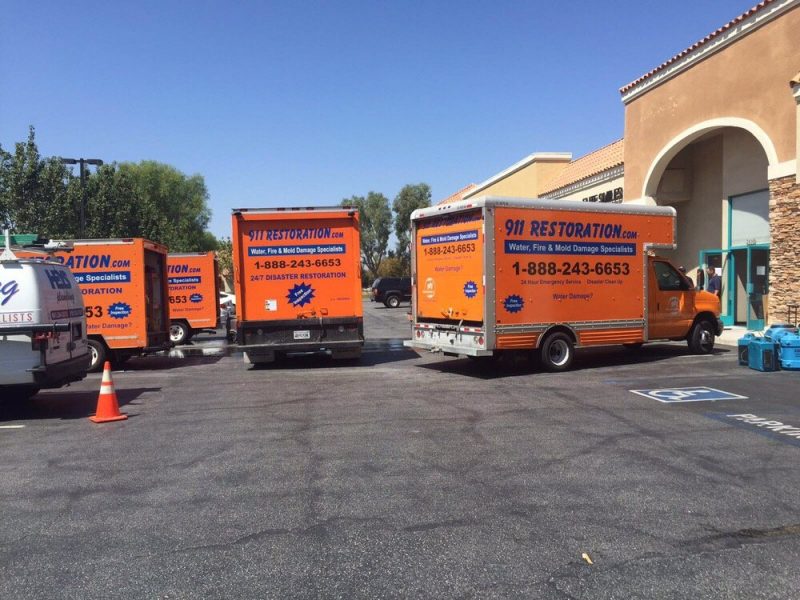 Located along the beautiful coastal waters of the Gulf of Mexico, Panama City provides a serene, scenic location for new home or commercial building owners to set up shop. But despite the gorgeous oceanic views, hazards can be right around the corner for property owners. Panama City is known for its hurricanes and tropical storms, which can lead to flooding inside of your building. If the water leaks under your floor or into your ceiling, it can create a haven for mold to breed and thrive.
While mold is one of the oldest organisms on earth, and is perfectly fine when it grows outside, this irksome fungus can cause a plethora of problems when it finds its way indoors. Not only will mold eat away at every surface it grows on, ruining your possessions and troubling the structural integrity of your commercial or residential property, but it may also lead to health complications. If you think you're in need of mold removal services, call in the experts right away. 911 Restoration of Panama City provides professional mold remediation services and is available to lend a hand 24/7/365. We will arrive to your door within 45 minutes of your first phone call to our offices, and will promptly alleviate your mold woes.
Why DIY Mold Removal Does More Harm than Good
Crafty residents of Panama City might love a good DIY home project, but mold decontamination shouldn't be one of them. Some tasks are better left to the professionals.
Special supplies and equipment are needed to properly perform a mold remediation job. This includes air filtration devices that get purposefully placed throughout your home or office building and are vented through a window to create negative air pressure. This guarantees that no outside contaminants are entering your building during the mold removal process.
911 Restoration of Panama City's technicians are expertly trained to complete a mold cleanup task efficiently. We are also equipped with the proper tools and protective gear, including cover-all suits and high-grade respirators to fend off mold spores from entering into our bodies.
When mold is not cleaned properly, it can be effortlessly spread to other areas of your home or retail store. Mold needs to be contained and isolated in order to be removed. If spores go airborne after you try to clean up the mold yourself, it can create an even bigger mess. This is why you need to leave the task of mold removal up to the professionals. Call 911 Restoration of Panama City today if you need mold removal services fast!
Sympathetic Mold Remediation Services in Panama City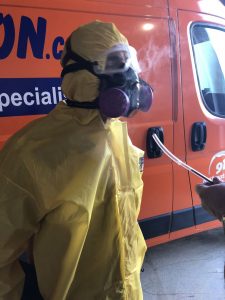 Mold can take its toll on your retail or residential building and your health. This is especially true of elderly people or young children, or of people with asthma or allergies. Some mold-related health risks include:
Sneezing

Wheezing

Coughing

Runny or itchy eyes

Upper respiratory infections

Heightened asthma or allergy symptoms
If you, your family, tenants, employees, or customers are suffering from any of these symptoms, or if you notice a musty odor or yellow, grey, or green discoloration happening on the walls of your building, you may be in need of mold inspection and mold cleanup services.
911 Restoration of Panama City will quickly and effectively remove all mold within your four walls. We will arrive within just 45 minutes and begin mold removal procedures immediately.
Not only are our services swift, but they are compassionate. We always put the customer first and keep you at the center of our attention, no matter how big or small the mold remediation job is. Our "fresh start" approach helps us to show you the silver lining of this dire situation. We not only want to rid your home or office building of mold, we want to help you enter a new chapter of your life.
If you are in need of mold removal services, contact 911 Restoration of Panama City today! We are available to start operations day or night!
We proudly service the cities of Bay County, Caryville, Chipley, Defuniak Springs, Destin, Ebro, Freeport, Miramar Beach, Niceville, Panama City, Panama City Beach, Ponce De Leon, Santa Rosa Beach, Walton County, Vernon, and Youngstown, and the surrounding areas.