Mold Removal in Bay County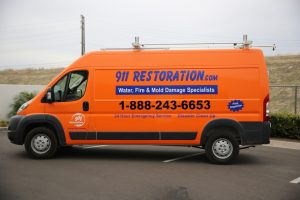 Bay County, Florida is the ideal location to buy a home or open a business. But there could be trouble in paradise for residential or commercial property owners. If your building has recently been afflicted with flooding, whether from a pipe burst, leaking roof, backed up sewage system, or a tropical storm, you might have an uninvited guest taking up residency within your walls. Mold removal services are sometimes necessary when a home or retail store has experienced water extraction. Thankfully, 911 Restoration of Panama City is ready to get rolling within 45 minutes of your initial phone call. With state-of-the-art equipment and a team of handpicked licensed, bonded, and insured technicians from your neighborhood, we offer fast and efficient mold remediation services when you need them the most. Our services are available 24/7/365, so whether it's day or night or you're located across the street or on the other side of Bay County, we will be ready when you need us the most.
Speedy and Sympathetic Mold Removal Services in Bay County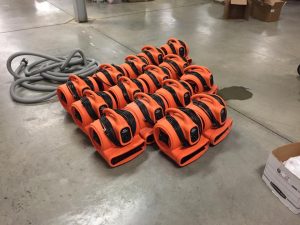 Mold isn't a substance that just appears out of nowhere after water damage occurs. It's actually everywhere and is present as microscopic particles floating through the air inside and outside of your property. In nature, mold is actually helpful as it helps to break down organic matter such as trees and grass. However, once it enters into your residential or commercial building and begins to colonize, mold can cause a myriad of problems.
There are several signs and symptoms that your building may be in need of mold inspection and mold decontamination services, including:
Discoloration – A mold infestation is likely to reveal itself as spots of yellow, gray, black, or pastel colors on your walls or ceiling. Some kinds of mold resemble fuzz or dust, so don't discount anything that looks out of the ordinary.
Musty Odor – When mold has taken up occupancy in your four walls, it may be accompanied by a noticeable musty smell. If you notice a strange odor coming from a particular room in your building, always investigate for the source.
Health Effects – Mold can cause health issues such as heightened allergy or asthma symptoms, wheezing, coughing, and upper respiratory infections. If you are suffering from any of these issues, it might be a good idea to call in the expert mold remediation services of 911 Restoration of Panama City

.
We off swift and sympathetic services to keep you and your building out of harm's way. We understand that needing mold removal services can cause undo stress in your life, and that's why we take a "fresh start" approach to every mold decontamination problem we tackle. We will completely extract all of the mold to make your residential or commercial property safe again so that you can enter a fresh, new chapter of your life.
Other benefits of working with us include:
Free visual inspections for property owners only

IICRC certified mold

removers
Locally owned and

operated

Same-day service
Emergency storm repairs

and boarding up

Third-party mold testing at professional labs
Leak detection and repair
 And much more!
Local Mold Remediation Services with Nationwide Support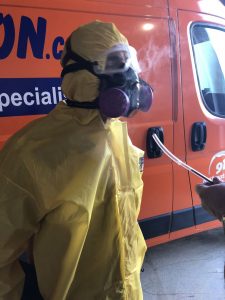 911 Restoration of Panama City draws from the talent of the best technicians in your neighborhood. But we are also a nationwide company, giving us numerous resources to help fix your mold troubles in a timely manner.
If your residential or commercial property has undergone water damage restoration services recently or if you notice any of the aforementioned signs or symptoms of mold growth, call our professional team right away. If you put off mold removal services for too long, your family, tenants, employees, customers, and more will certainly be affected. 911 Restoration of Panama City wants to keep you safe, and that's why we are available with mold removal services around the clock.
We recently offered our mold remediation services to a local family with young kids. They were afraid that the mold spores would make their children sick. We went in and completely extracted all of the mold, leaving their home safe and sound.
We proudly service the cities of Bay County, Caryville, Chipley, Defuniak Springs, Destin, Ebro, Freeport, Miramar Beach, Niceville, Panama City, Panama City Beach, Ponce De Leon, Santa Rosa Beach, Walton County, Vernon, and Youngstown, and the surrounding areas.